Senior Citizens
This is a section of our website devoted to our senior citizens. All age groups can gain value in their lives by these issues, comments, and information to better enrich our community.
---
Ramblings by Robin: Scoop for Caregivers - November Edition
---
Warren County Community Senior Center Lunch Menu
---
Community Senior Center Activities
December
November
---
National Slam the Scam Day - March 9, 2023
On National Slam the Scam Day and throughout the year, we give you the tools to recognize Social Security-related scams and stop scammers from stealing your money and personal information. Share scam information with your loved ones. Slam the Scam!
Recognize the four basic signs of a scam:
Scammers pretend to be from a familiar organization or agency, like the Social Security Administration. They may email attachments with official-looking logos, seals, signatures, or pictures of employee credentials.
Scammers mention a problem or a prize. They may say your Social Security number was involved in a crime or ask for personal information to process a benefit increase.
Scammers pressure you to act immediately. They may threaten you with arrest or legal action.
Scammers tell you to pay using a gift card, prepaid debit card, cryptocurrency, wire or money transfer, or by mailing cash. They may also tell you to transfer your money to a "safe" account.
Ignore scammers and report criminal behavior. Report Social Security-related scams to the SSA Office of the Inspector General (OIG).
---
2023 Warren County Outstanding Senior Nominations
To celebrate Older Americans Month, the Warren County Aging Services Advisory Council annually conducts a county-wide search for an older adult to honor with the Mary Louise Christine Outstanding Senior Citizen of Warren County Award. We seek your help in identifying a Warren County senior whose service to their community has benefited other residents to the extent that you feel they are deserving of this distinction.
---
Older Americans Month
---
The Warren Senior Voice - Winter 2023
Published by the Warren County Department of Human Services, Division of Aging & Disability Services-ADRC
---
2022-2024 Public Hearing
On Thursday, June 23, 2022 at 10:30, the 2022-2024 Warren County Division of Aging & Disability Services Public Hearing will take place.
---
COVID-19 & Caregivers Resources
---
Program Offering-WISE Courses for Older Adults
Are you 60 or older and looking for an opportunity to learn how to stay healthy and meet new people?
Take advantage of this FREE virtual WISE program. Join us, and bring a friend! This virtual online educational program offers six lessons covering a wide range of topics. Join us for this fun program from the comfort of your own home.
---
Calling All Seniors - Free Lunch Coupon
Come join us at one of our Nutrition Centers and enjoy a lunch on us with the coupn below.
---
United Way Free Tax Prep
United Way of Northern New Jersey and its partners have launched a FREE and SECURE online tax preparation site for low- and moderate-income households. Despite the challenges of the COVID-19 pandemic, our IRS-certified tax preparers are committed to safely delivering our signature top-notch preparation and filing service to maximize your tax refund.
---
Warren County Senior Center Fliers
Click on images below for larger version: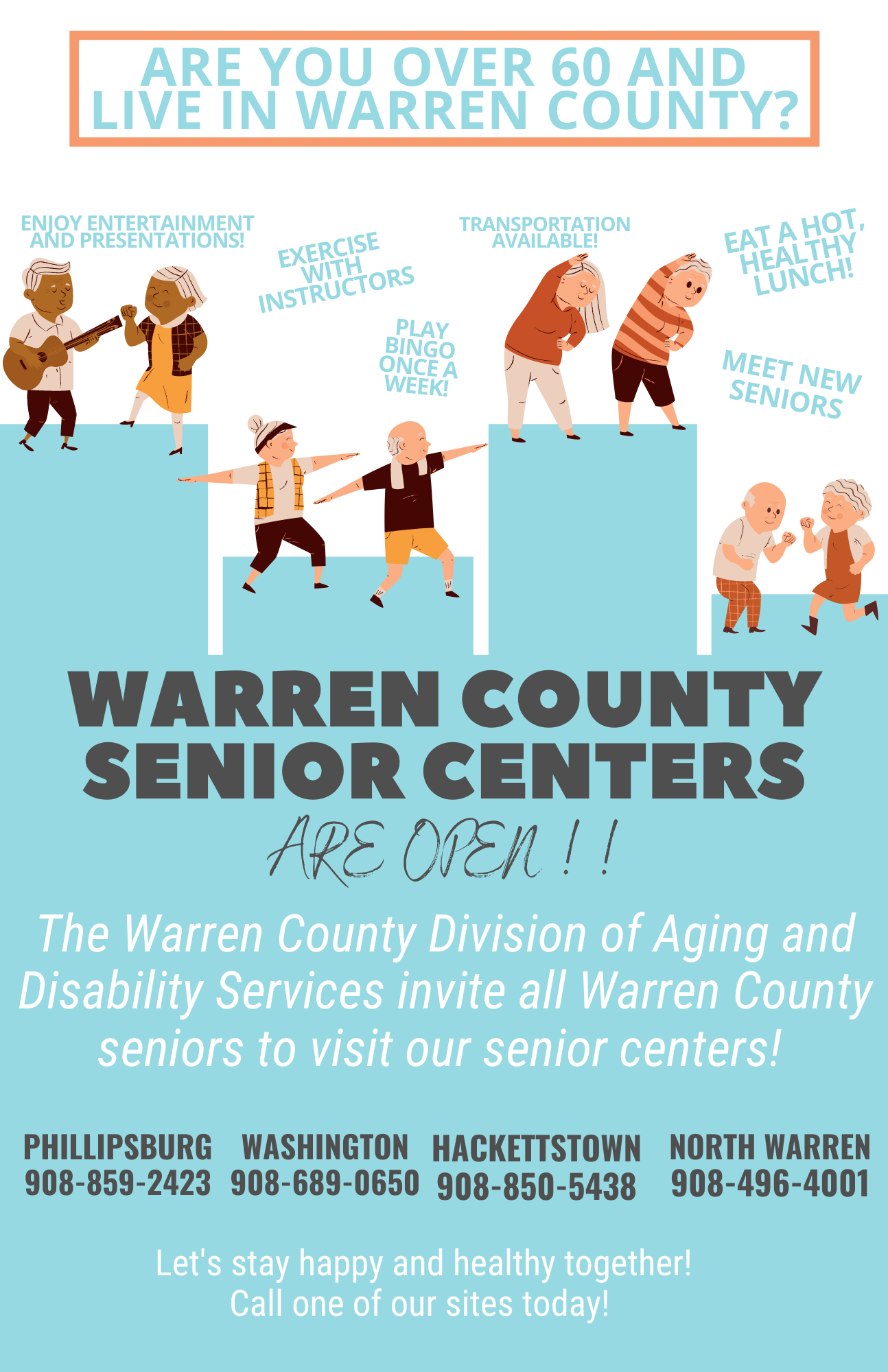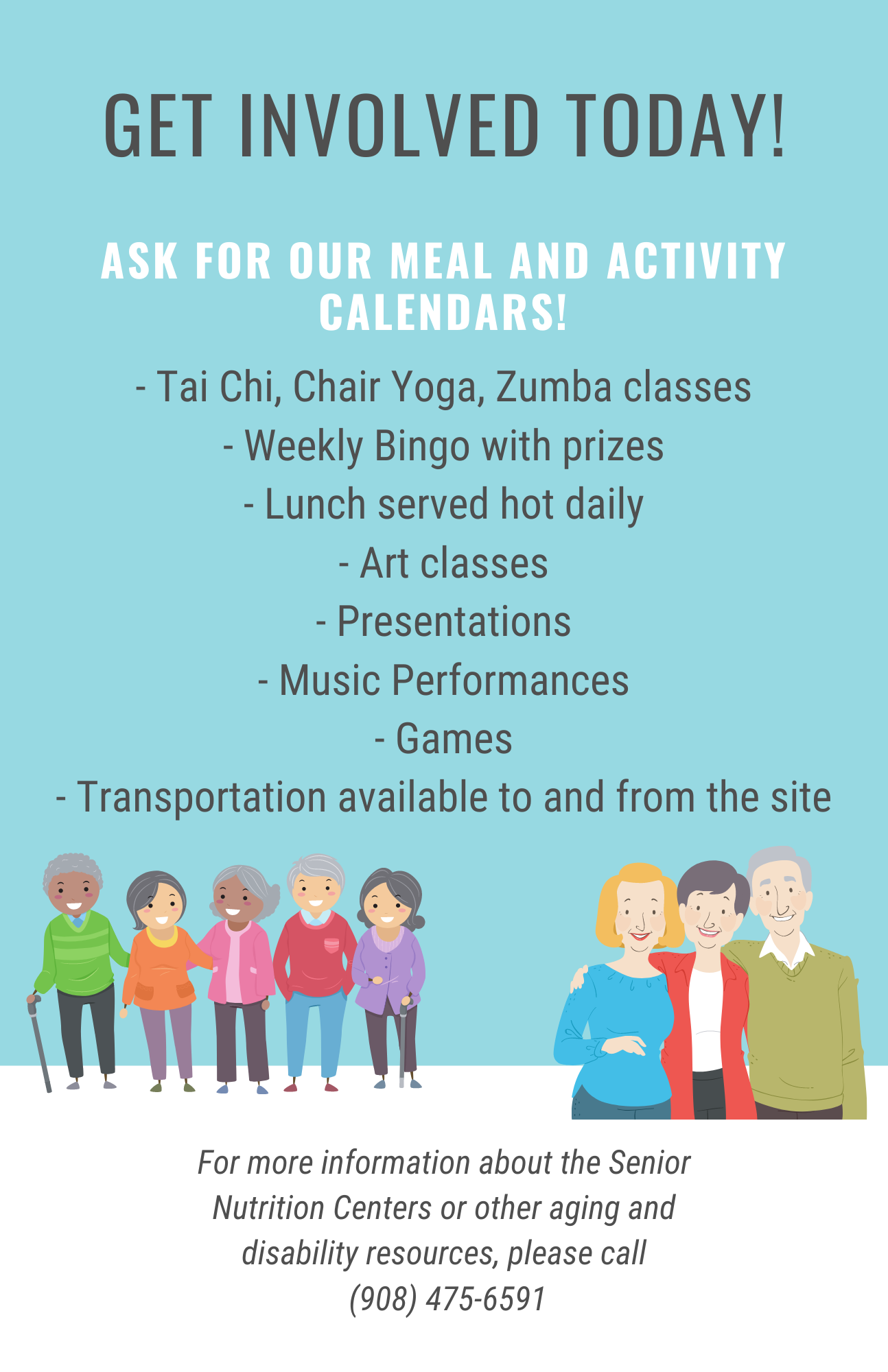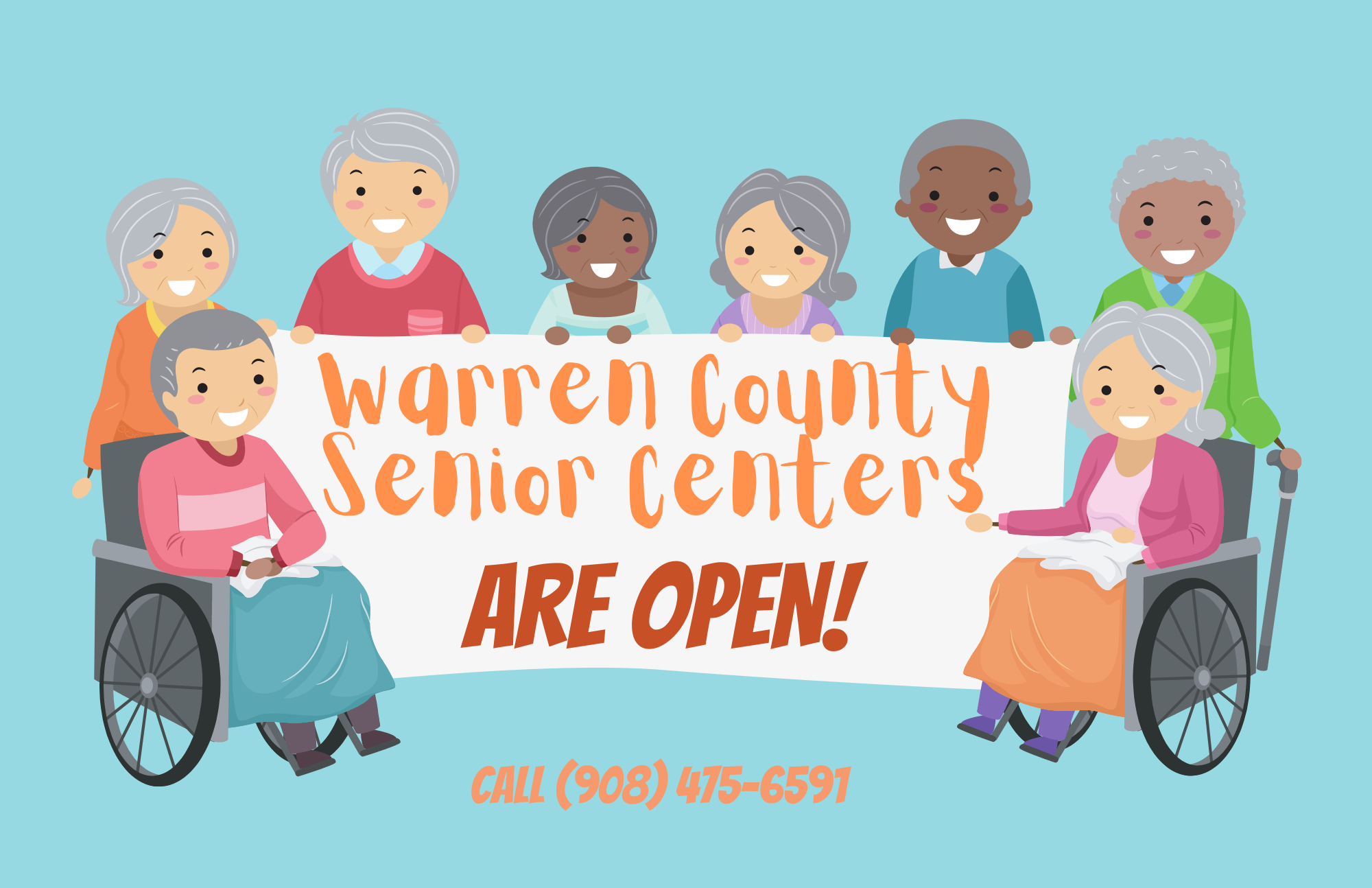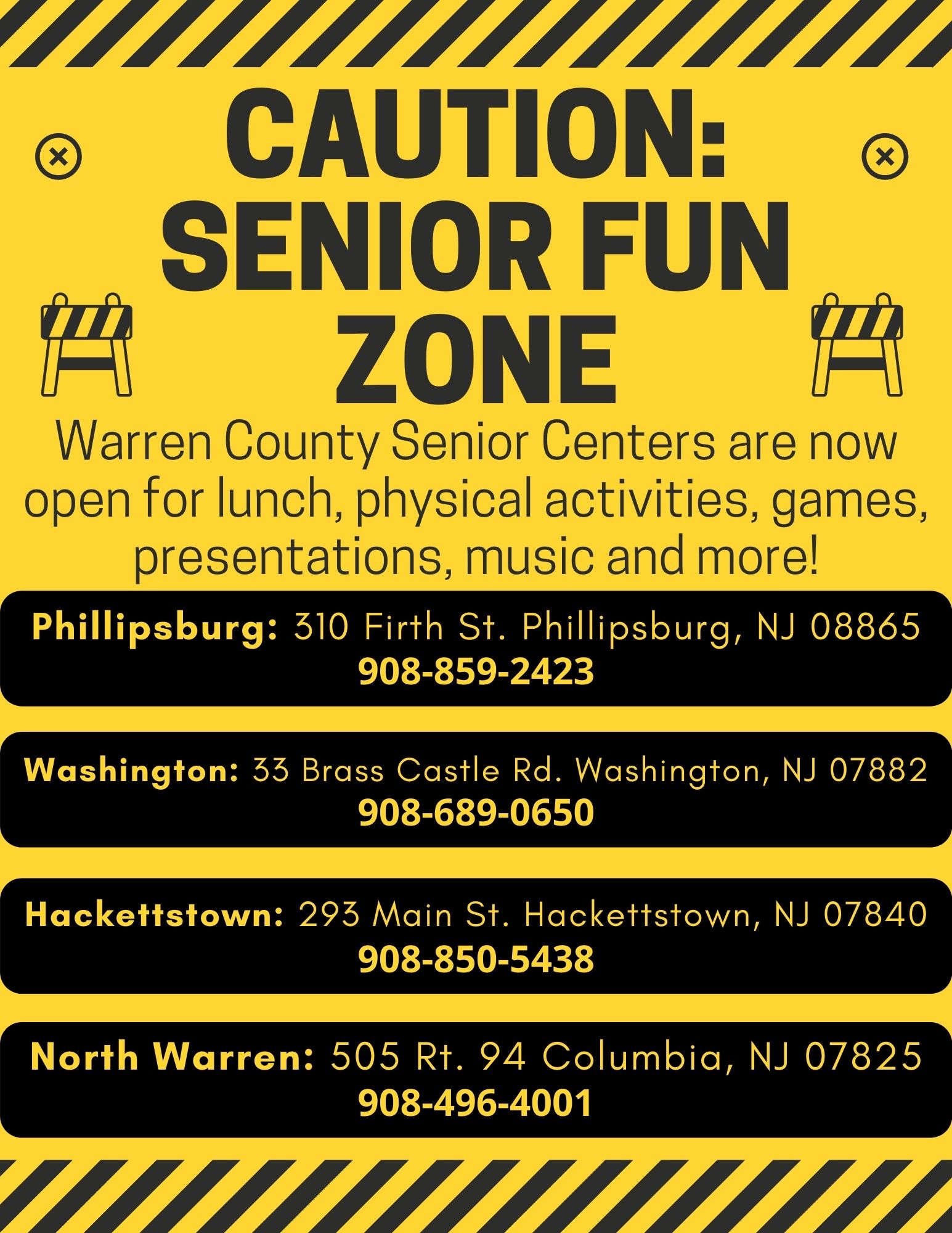 ---
Volunteers Needed
Just 1-2 hours a week can make a difference in someone's life!
Perhaps you've reached a point when you have a little extra time in your life. How about spending a little of that time with us assisting our seniors and residents with disabilities in Warren County by volunteering for:
The Warren County Meals At Home Program
The Volunteer Connection Program
---
Warren County Aging Services Advisory Council
The Aging Services Advisory Council is seeking membership application for its vacancy.
---
FREE Tax Preparation Program
---
NAMI Family To Family Classes
Starting March 3 at 7:00 PM
NAMI Family-to-Family is a free, 8-session education program for family, friends and significant others of adults with mental health conditions. NAMI Family-to-Family provides information about anxiety, depressive disorders, schizophrenia, bipolar disorder and other mental health conditions. Other topics covered include communication, problem solving, treatment and recovery.
---
Time to Meditate: A Guided Virtual Class
Tuesdays, 11am
Warren County Division of Aging is offering virtual meditation classes through the library portal for Seniors 60 and older, residing in the County. Registration can be completed here.
Participants have to complete required forms / waivers during sign ups.
View flyer for more information...
---
Assistive Technology For Caregiving
LEARN HOW SIMPLE TECHNOLOGY CAN HELP
United Way of Northern New Jersey Caregivers Coalition is offering a free assessment by Assistive Technology Specialists to help create a tailored plan to meet your and your family's needs.
The specialists will help to create a plan, provide the assistive technology (e.g. virtual assistants, drop-in cameras, smart plugs, video doorbells and more!) and educate the family on how to use the devices. Select devices will be provided to the caregiver/care recipient as needed. The team will also provide ongoing support to be sure the technology continues to meet your needs.
---
2021 Eligibility Limits
To know if you qualify for PAAD, Senior Gold or other Medicare savings programs, please call our office for a preliminary review.
The PAAD income eligibility limits for calendar year 2021 are:
Less than $28,769 FOR A SINGLE PERSON
Less than $35,270 FOR A MARRIED COUPLE
The SENIOR GOLD income eligibility limits for calendar year 2021 are:
Between $28,769-$38,769 FOR SINGLE PERSONS
Between $35,270-$45,270 FOR MARRIED COUPLES
---
Senior Planet
Senior planet.org is a web based portal that is now open for seniors to take advantage of their online learning classrooms, exercise and health programs, technology training and such. These are being offered for FREE through zoom lessons and is open for any one to join. One can either join for free or offer a volunteer donation and become an online member. During COVID-19 this website may be a great tool for individuals to connect with topics of their interest and choice to diminish social isolation.
---
Webinar: How to Use VA Telehealth­­­
The Division of Aging and Disability Services would like to inform you about an upcoming Webinar for Veterans
Date: April 16, 2020
Time: 2pm – 3pm
Subject: How to Use VA Telehealth­­­.
To Register for the webinar visit:https://www.eventbrite.com/e/edf-presents-accessing-va-telehealth-services-during-the-covid-19-crisis-tickets-101908412806
---
Senior Medicare Patrol and Medicare Scams Awareness
Please be advised that there is a significant amount of Medicare fraud and Scams that are currently occurring. The Administration for Community Living would like to advise individuals on services offered through Senior Medicare Patrol to prevent, protect and investigate Medicare Fraud amongst those Medicare beneficiaries.
Scammers are offering Medicare beneficiaries "free" screenings or cheek swabs for genetic testing to obtain their Medicare information for identity theft or fraudulent billing purposes. Fraudsters are targeting beneficiaries through telemarketing calls, booths at public events, health fairs, and door-to-door visits. Charles said that Good Samaritans of America, an alleged charity, is fraudulent and should be reported to Office of Inspector General. Visit https://oig.hhs.gov/fraud/hotline or call 1.899.447.8477.
SMP strongly encourages people to review their explanation of benefit and Medicare Summary Notices. If you should have any concerns, need help disputing an insurance charge or need to report a fraud contact 1.877.SMP.4359. You can visit their website at www.seniormedicarepatrolnj.org. To request a presentation on Medicare fraud and Scams that are currently occurring across the Country and NJ, please reach out to our office.
View SMP Fraud Brochure...
View SMP Handout ...
---
Social Security Phone Scams
The Inspector General of Social Security, Gail S. Ennis, is warning the public that telephone scammers may send faked documents by email to convince victims to comply with their demands.
---
National Memory Screening Program
FREE CONFIDENTAL MEMORY SCREENINGS
View flyer for more info and locations ...
---
Aging & Disability Resource Connection (ADRC)
---
Free Classes - WC Senior Center
Free classes open to Warren County Residents 60+ Years of Age
---
Visiting Nurse Association (VNA) Speakers Bureau
The Visiting Nurse Association of Northern New Jersey (VNA) wants to be invited to an upcoming meeting of your club, service organization, civic or employee group in greater Morris County.
Experienced and knowledgeable speakers are available to give talks about your choice of topics including Caring for the Caregiver, Diabetes and You, Home Safety & Fall Prevention and Understand Hospice.
Presentations are generally 30 minutes in length but can be tailored to meet your group's needs and audience members are welcome to ask questions.
Speakers are available for both daytime and evening events for groups as small as 4-5 or as large as several hundred.
---
Hospice Compassionate Care
We understand that families may feel overwhelmed while taking care of terminally ill loved ones. In order to ease that burden, we provide:
A dedicated presence for patients and families on nights and weekends Specialty programs to prevent re-hospitalizations
Thorough symptom management
And a quick response time when it comes to patient needs
---
Wellness Programs
---
Volunteers Needed
The Warren County Community Senior Centers are looking for volunteers to play games, lead discussion groups, book clubs, instruct exercise programs, AND MORE at each of our four Center locations: Belvidere, Hackettstown, Phillipsburg & Washington.

To learn how you can join the fun as a participant, a leader, or a volunteer call Diane Gyorfi: 908-689-5208
---
PTR-1 Form
New Jersey Property Tax Reimbursement ("Senior Freeze") Application
---
Grandparent Scam - What You Need To Know
Please see link below received from NJ Adult Protective Services Coordinator with information on a scam targeting seniors.
View grandparent scam fact sheet ...
---
Donations Accepted
The Warren County Division of Aging & Disability Services always seeks donations of durable medical equipment such as: wheelchairs, walkers, canes, bed side rails, portable ramps, power chairs, scooters, hospital beds, and more.
---
Volunteers Needed
Our Senior Nutrition, Activities & ADRC Centers ("SNAAC") are looking for volunteers to play games, lead discussion groups and book clubs, instruct exercise programs, AND MORE at each of our four SNAAC locations: Belvidere, Hackettstown, Phillipsburg & Washington.
---
Busy Seniors:
The Busy Seniors from Liberty, Independence and surrounding areas meet every Friday at the St Peter and Paul parish hall (corner Hope Road and Rt. 46) in Liberty Township. The meeting is at 2 PM. anyone who would like too join our club will be welcomed.
"People usually get to the seniors club earlier than 2 o'clock and mostly everyone plays cards. Some poker, some pinockle and then a game called pokerino which is like bingo. Another table is the gab table. We also run monthly trips to Atlantic City ,these are paid for by the individuals going. We have covered dish lunches on special occasions. We also have day trips to various places. And we have cakes and coffee on meeting days. Join us!"

- Ken
---
Senior Services: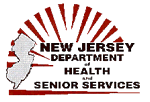 State of New Jersey Department of Health and Senior Services
Many links. Most interesting is perhaps the Senior Gold Prescription Discount Program.