Community Resources & Info
Community Partners Wanted
WHO: Adult members of the Great Meadows School Community
WHAT: Opportunities for which you may receive a small stipend for facilitating an extracurricular activity or club based on your individual talents/skills.
WHEN: Spring 2022 and beyond
WHERE: Great Meadows Middle School and Central Elementary School
WHY: To provide GMRSD students with a chance to expand their education by learning a new skills, sport, game, etc. from someone who has first-hand knowledge or experience in the specific area of interest
---
Girl Scout Troop 7260 - Road Side Clean Up
The Girl Scout troop 7260 attended the Committee meeting on March 3rd to promote keeping Liberty clean, by creating posters and asking the Committee to do a road side clean up in the community.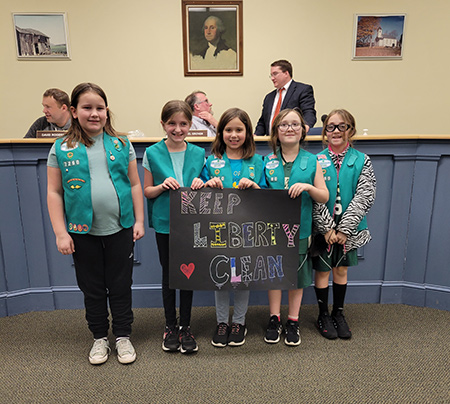 ---
"Defending Our Heroes" Initiative
In acknowledgement of Veteran's Day and the service of our veterans and active-duty service members, the New Jersey Division of Consumer Affairs has created an anti-fraud education initiative called "Defending Our Heroes," which includes public outreach and new military-specific consumer education materials. The Division will be conducting anti-fraud presentations over the next year at veterans organizations and at military installations for service members and their families.
---
New Transportation Service
31Ride, the county's newest transportation program starts Monday June 6th at 6:00 am.
County residents will have the ability to hop on a bus at key locations and arrive at the Clinton Park-N-Ride without worrying about traffic or finding a parking space.
View flyer ...
View schedule ...
---
Power Lines: Work Safe - Play Safe
Summer is a great time for relaxing, leisurely activities and completing work on outdoor projects. Whether you're working or playing, it's important to be aware of power lines and stay safe.
---
United Way of Northern New Jersey
United Way Caregivers Coalition promotes knowledge of and action around caregiving issues to ensure all caregivers identify themselves in this role and have access to the resources, services, education, and other support needed to sustain them as caregivers.
Pathways for Caregivers Resource Book
---
Help For Homeowners
The Urban League of Morris County is an approved agency by the Department of Housing and Urban Development (HUD). We have Certified Housing Counselors that are available to help all residents with their foreclosure situation (Default Prevention).
Our counseling services take place in the office of the Urban League of Morris County, 300 Madison Avenue, Suite A, Morristown, N.J., 07940 which is handicap accessible.
---
Warren County Mosquito Commission
On the homepage of the Warren County Mosquito Commission is the link Spraying for Adult Mosquitoes, which gives the daily information for our adult mosquito treatments.
---
Warren County Sheriff's Office Implements "Project Medicine Drop"
(BELVIDERE, NJ) -- Unwanted or outdated medicines can be safely disposed of through "Project Medicine Drop," Warren County Sheriff David P. Gallant has announced. This project is a free medicine collection program for residents to safely dispose of unwanted, expired, or unused medicines.
The drop-off site will be overseen by the County Sheriff's Office and located at the Warren County Courthouse, 413 Second Street, Belvidere. This program is a cooperative effort between the Sheriff's Office, the New Jersey Attorney General's Office, the state Division of Consumer Affairs, and the Warren County Board of Chosen Freeholders.
---
Supportive Services for Veteran Families (SSVF) Program
This program, funded by a US Department of Veteran Affairs grant, aims to keep veteran families from losing their homes and to rapidly re-house homeless veterans and their families. SSVF services include temporary financial assistance and case management services ranging from assistance in finding jobs and child care to linking the veteran to healthcare services.
View Poster
View One-Page Overview