Mountain Lake Fire Company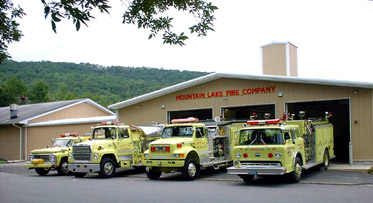 The Mountain Lake Fire Company Located in Warren County, New Jersey, in Liberty Township, with a population of approximately 3000. The community surrounds Mountain Lake and provides a home for many members of the Fire Company and Auxiliary. The firehouse is located on the southeast corner of Mountain Lake.
The fire company covers all of Liberty Township and about 1/3rd of White township, north of the Pequest river and east of Rt. 519.
There are 25 volunteers who are on call 24 hours a day by 7 days a week for all kinds of emergencies and other Fire Company activities.
At present there are 5 vehicles in service.
Membership includes

1 paramedic
5 Emergency Medical Technicians (EMT)
11 First Responders
For non-emergency and membership information, call the fire house at (908) 475-4400. All emergencies call 911.
---
Ladies Auxiliary
---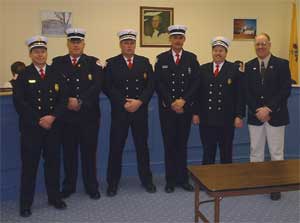 Fire company 2004 officers just after being sworn in at the February Township Committee meeting. From left to right:
Dennis Sharples (Firefighter)
Steve Matuszek (Assf Chief)
Ken Lunden (Chief/EMT)
Frank Jalosky (Firefighter/OEM)
Mick Ennis (Firefighter)
John Inscho (Mayor/Firefighter/EMT)
---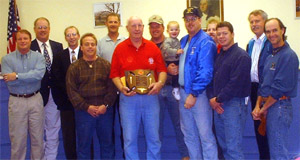 John "Red" Inscho showing off his plaque with fellow fire fighters. Red was presented a plaque for 50 years of active service to the Mountain Lake Fire Company at the October 5th Liberty Township Committee Meeting. He was Asst. Chief from 1951 to 1963 and Chief from 1964 to 1970. He has also served as Liberty Township Constible and one term as Committeeman.
---
Some more pictures from our Photo Album: