Of Note
Cabin Fever
March 27th - Birding 101
Join the Liberty Twp. Environmental Commission for our annual Cabin Fever Workshop! Featuring a special presentation by John Parke of the NJ Audubon Society.

Job Postings 2020
Applications are now being accepted for the following 2020 Liberty Township Positions;
Beach Manager, part-time position, seasonal
Life Guard, part-time position, seasonal (minimum age 16)
Summer Recreation Director, part-time position, seasonal
Summer Recreation Counselor, part-time position, seasonal (Minimum age 18)

US Census Jobs
Earn extra income while helping your community.
The U.S. Census Bureau is recruiting to fill hundreds of thousands of positions across the country to assist with the 2020 Census count

JCP&L - Helpful Tips Regarding ETRs
As Winter Storm Ezekiel comes to a close, here are some helpful tips to relay to residents regarding JCP&L's Estimated Time of Restoration (ETR). The following information is on the JCP&L MyTown website.
A Global ETR is an estimate of when service will be restored to the majority of customers within JCP&L following a major outage event. It will be provided no later than 24 hours after the weather event has passed and conditions are safe enough to work.
Global ETRs will be displayed until more detailed ETRs can be established, generally between 2 and 4 days, depending on the severity of the event.
For your Individual ETR, log into your account using the form on the top right corner of the MyTown page, or view the outage map. Individual ETR is an estimate of when a particular customer's (or group of customers') service is estimated to be restored based on the above guidelines.
ETRs are generally updated daily during major outage events.
Note: If you need to make repairs to your property, the ETR may be longer than posted. The attachment in this email outlines the homeowner guidelines for your home's electrical system.
Please remind your residents to report their power outages. Additionally, new outages may continue to come in for each of our municipalities that are not a result of the storm. JCP&L will continue to work to restore all customers.
JCP&L reminds customers to immediately report any downed wires to the company or their local police department. Customers should never go near a downed power line, even if they think it is no longer carrying electricity.
As always JCP&L appreciates partnering with our Police, Fire, OEM and other emergency professionals in each of our municipalities.
Mountain Lake Algal Bloom Identification
Warren County Board of Health received a report of a suspected Harmful Algal Bloom at Mountain Lake in Belvidere and confirmed through sampling and analysis that an HAB is present.
Warren County Board of Health will post an advisory at public access points. Please respect the "RED" Danger signage.
Because the weather is changing, the Warren County Board of Health anticipates the HAB will be short lived and plan on resampling in the beginning of December. We will share these results as well as any new advisory recommendations received at Liberty Township Municipal Offices.
Looking forward to the new and improved Lodge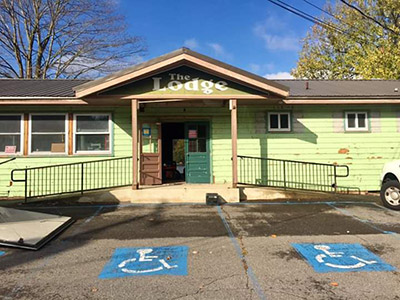 Our indoor fitness program is cancelled for the winter season. We are sorry for any inconvenience and are looking forward to continuing once the warm weather allows us to be back outdoors in April/May 2020.


Municpal Information Packet
Adult Mosquito Control Program

JCP&L's MyTown Feature Offers Valuable Municipal Information
The MyTown link on the Jersey Central Power & Light (JCP&L) 24/7 Power Center provides comprehensive municipal outage and infrastructure information for every municipality in the company's service area.

Designed to help JCP&L customers access the important information they need during power outages, MyTown includes a summary of current outages as well as a snapshot of each community's electric infrastructure.

During major weather events, expanded information is available, including the cause of the outages, the time of the earliest reported outage, and the estimated restoration time.

To obtain the latest outage information about your municipality, click the "MyTown" link on the JCP&L 24/7 Power Center or go to www.firstenergycorp.com/mytown.
Just 1-2 hours a week can make a difference in someone's life!
Perhaps you've reached a point when you have a little extra time in your life. How about spending a little of that time with us assisting our seniors and residents with disabilities in Warren County by volunteering for:
The Warren County Meals At Home Program
The Volunteer Connection Program
Animal Lost and Found
If you have lost or found an animal please contact the Animal Control Official, Alan De Carolis at 908.377.0808

The Liberty Township Animal Holding Facility is located at
Blairstown Animal Hospital
29 Cedar Lake Rd
Blairstown, NJ 07825
Phone: 908-362-6430

Come Enjoy Breakfast at the
Mt. Lake Fire Company
Breakfast Buffet
New Additions, along with your old Favorites!
Mt. Lake Fire Co. Ladies Auxiliary
At the Mt. Lake Firehouse
For more info, call 475-3592.
Breakfast is served the third Sunday of each month,
with the exception of September, December, January and February
when we are closed.