Of Note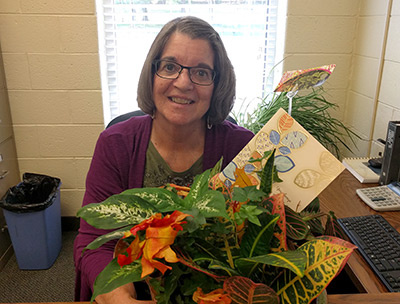 Liberty Township send Patti Zotti best wishes as she begins her retirement.
She will truly be missed.
December 26, 2017 thru January 31, 2018
DPW Yard
349 Mountain Lake Road
Great Meadows, NJ

Free Paper Shredding 2018 Events
May 12th and September 22nd
8am to 11am
Warren County Administration Building (parking lot)
165 County Road 519, Belvidere, NJ 07823

Joint Feasibility Study Public Meeting Presentation
A study of the feasibility of a new sending receiving agreement between the Hackettstown School District and the Great Meadows Regional School District pertaining to 7th and 8th grade.

JCP&L Reminds Customers Assistance & Service Programs
Jersey Central Power & Light (JCP&L) reminds customers having difficulty paying their utility bills that they may be eligible for special financial assistance or energy efficiency programs that could reduce the amount of electricity they use.
December 13, 2017
Winter's chill has arrived, but there's plenty of warmth and color to be found in a greenhouse! Flowerland Growers near Belvidere, Well-Sweep Herb Farm near Port Murray, and Donaldson's Greenhouse & Nursery near Hackettstown all invite you to visit their greenhouses this weekend - that photo of poinsettias was taken recently at Donaldson's. You'll find plenty of other events to entertain and get you in a holiday mood as you read on. And if you're still looking for that special spruce or perfect pine, turn to our guide to Choose-and-Cut Christmas Tree Farms. Happy Hanukkah to those who celebrate it, and Happy Wanderings!

FRAUD ADVISORY: Inspector General Warns Public About SSA Employee Impersonation Scheme
The Acting Inspector General of Social Security, Gale Stallworth Stone, is warning citizens about a new Social Security Administration (SSA) employee impersonation scheme. SSA and its Office of the Inspector General (OIG) are receiving reports from citizens across the country about phone calls from an individual posing as an SSA employee. The caller attempts to acquire personally identifiable information from victims to then edit the victims' direct deposit, address, and telephone information with SSA.
Acting Inspector General Stone warns citizens to be cautious, and to avoid providing information such as your SSN or bank account numbers to unknown persons over the phone or internet unless you are certain of who is receiving it. "You must be very confident that the source is the correct business party, and your information will be secure after you release it," Stone said.
If a person has questions about any communication—email, letter, text or phone call—that claims to be from SSA or the OIG, please contact your local Social Security office, or call Social Security's toll-free customer service number at 1-800-772-1213, 7 a.m. to 7 p.m., Monday through Friday, to verify its legitimacy. (Those who are deaf or hard-of-hearing can call Social Security's TTY number at 1-800-325-0778.)


2018 Residential Fall Clean Up
The Liberty Township Spring Residential Clean-up is scheduled for May 21-26 and October 8-13.
A voucher system will be used.
Each voucher permits (1) one car, pick-up or small trailer size load to dump at the Warren County Landfill.
Liberty Township

Newsletter 2017
Residents - look for a mailing from Liberty Township in your mailbox within the next few weeks!
We are pleased to once again bring you this newsletter to share information about Township business and activities. We may be a small community, but there is plenty going on.

JCP&L Storm Updates
Important Reminders for Customers:

Liberty Township Recycling News
It is state law for all residents and businesses: Newspaper, Junk Mail, Office Paper, Cardboard, Plastic, Glass, Metal, Nickel Cadmium & Small Sealed Lead (Ni-Cd/Pb)

Public Safety Notice: Temporary Road Limitation
As of February 1st, 2017 Lakeside Drive West, in the area just south of the "spring house" will be narrowed to a single lane. A temporary traffic speed limit will be reduced to 5mph due to road repairs.
Animal Lost and Found
If you have lost or found an animal please contact the Animal Control Official, Alan De Carolis at 908.377.0808

The Liberty Township Animal Holding Facility is located at
Happy Tails Inn, Tim Norton
69 US Route 46
Hackettstown, NJ
Telephone: 908.813.3832

Come Enjoy Breakfast at the
Mt. Lake Fire Company
Breakfast Buffet
New Additions, along with your old Favorites!
Mt. Lake Fire Co. Ladies Auxiliary
At the Mt. Lake Firehouse
For more info, call 475-3592.
Breakfast is served the third Sunday of each month,
with the exception of September, December, January and February
when we are closed.